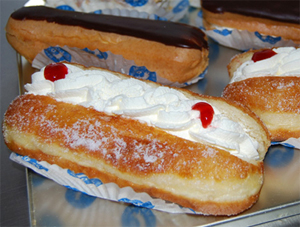 We are a family of bakers for nearly 150 years, and have been supplying many households in the mid Cornwall area with fresh traditionally made bread and cakes for over 30 of those, using only the best quality ingredients and handed down recipes.
Although bakery processes have changed dramatically over the last 50 years, we still believe the "old fashioned" method of making bread using long fermentation times is the only way to give bread that crisp crust and distinctive flavour that we are so well known for.
We also have a large range of cakes and pastries for your enjoyment and our savoury selection includes 6 varieties of pasties, plus pies, sausage rolls and 3 delicious varieties of hand made quiches, ideal for your lunch or to take home.
www.martinsbakerycornwall.co.uk