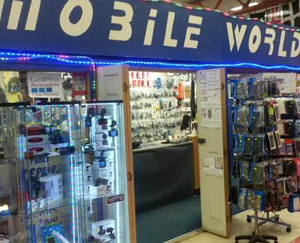 Mobile World/Kernow Trading

We have built up our excellent reputation over many years. So much so that a large percentage of our customers are referred to us by the main high street shops (like Vodaphone etc). Also, over the years, we have provided regular repair and unlocking services for a number of multi-franchised independent mobile phone suppliers.
We are an informal partnership trading as Mobile World in Truro's Pannier Market (opposite Marks and Spencer's) since 2000. We are partnered with Splash Mobiles in Par Market (Cornish Market World, St Austell)
We can repair most mobile phone problems. We repair on-site and phones are not sent away. This means that we can offer fast repairs. We realise that a mobile phone is usually more than just a phone these days: we use them for emails, apps, photos, contacts etc. Therefore, we endeavour to offer the fastest turnaround for repairs that is available.
We operate a no fix-no fee policy. This means that if we can't fix the problem (and we usually can!) you will not be charged a penny. We can also repair water-damaged phones.
The best way to proceed is to just pop your phone into us so that we can actually see the problem and give you the best advice we can.
We seek to offer the best and fastest service in the West!
Please follow and like us on Facebook
01872 276888 or 07812341238
www.cornwallphonerepairs.co.uk